Stainless Steel High Purity Line Regulator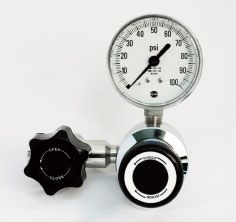 Stainless Steel High Purity Line Regulator
Series 3401L Stainless Steel High Purity Line Regulator
DESCRIPTION
The 3401L Series line regulators are designed to suit a large variety of applications. The high purity design makes them ideal for line drop regulators in instrumentation labs, with the 0.2 Cv orifice they are capable of very high flow rates.
FEATURES
• Small internal volume - less than 5cc.
• Capable of large flows with only a small pressure drop.
• High purity diffusion resistant, metal diaphragm construction.
• Encapsulated seat.
• Diffusion resistant, stainless steel diaphragm packless control valve installed on the outlet as standard.
• Designed to pass an inboard helium leak-rate test of 1x10 -9 cc per sec.
• All parts ultrasonically cleaned prior to assembly.
• Rear panel mounting holes.
APPLICATIONS
The 3401L Series is an excellent choice for gas flow applications with low inlet pressures and low differential pressure between inlet and outlet. The high inlet pressure rating makes also very suitable as a sensitive cylinder regulator for many low pressure corrosive gases when fitted with the proper CGA cylinder valve outlet connection.
SPECIFICATIONS
Max. Inlet Pressure: 3000 psig
Operating Temp. Range: -40° to +185°F.
Flow Coefficient(C

v

): 0.08 standard, 0.2 C

v

optional**
Inlet and Outlet: 1/4" NPT female
MATERIALS OF CONSTRUCTION
Body: 316L stainless steel
Poppet: 316L stainless steel
Poppet Spring: Inconel®
Diaphragm: stainless steel
Seat: Tefzel
Diaphragm gasket: Teflon®
Inlet Filter: stainless steel
Bonnet: chrome plated aluminum
Gauge: stainless steel