QRAE II, 1 to 4 Gas Monitor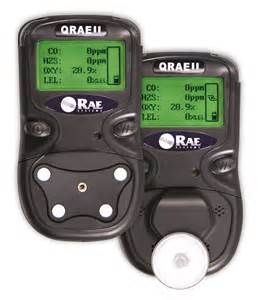 QRAE II, 1 to 4 Gas Monitor
Contact Paramount Gas Products for other configurations not listed.

The QRAE II is a durable and versatile diffusion or pumped one-to-four gas monitor
for detection of combustibles, oxygen, hydrogen sulfide, or carbon monoxide. Standard features include easy-to-change battery packs, easy access to sensors, internal vibrating alarm, loud 95dB audible alarm, and a water-resistant IP-65 case design. The rechargeable Lithium-ion battery delivers up to 14 hours of continuous operation in diffusion mode (a spare alkaline battery adapter is included for 10 hour back-up operation).
RAE Systems' patented, CO2 tolerant SPE O2 sensor delivers a longer life span, boasting an RoHS compliant lead-free and leak-free design. The QRAE II sports the capability to record data that can be downloaded to a PC. The AutoRAE II for QRAE II Automated Test and Calibration Station makes bump testing and calibration as easy as a press of a button.